Alex Black - Wet Pussy
Posted - August 9, 2016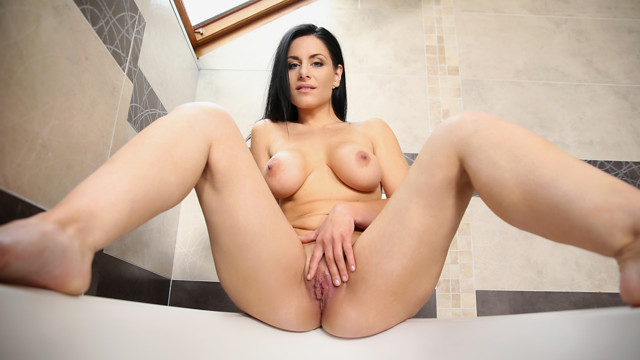 Peeling off her miniskirt and then climbing into the tub, enhanced busty mom Alex Black takes the time to let her hands roam all over her soft wet skin. From playing with her tits to sliding her palms lower to fondle her cum hungry bare fuck hole, this horny milf won't stop until she cums!
»»» End «««
Angela Harley - Loofah Me
Posted - April 9, 2015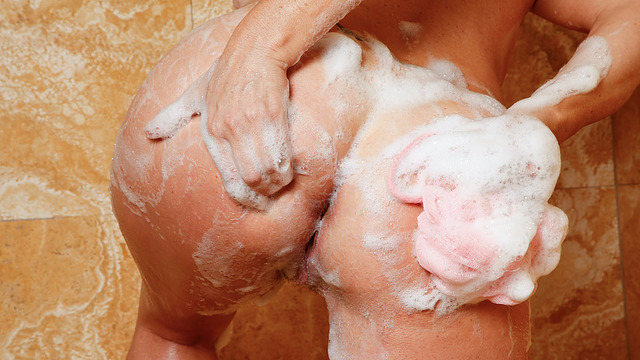 Angela Harley is a horny American milf who can't resist the urge to play with her all naturals and tanned skin in the shower. After soaping herself up beneath the spray, the cum craving cougar settles down on her shower's bench and spreads her legs to let her slippery fingers make her landing strip fuck hole pulse with ecstasy.
»»» End «««
Samantha Snow - Time In The Tub
Posted - March 24, 2015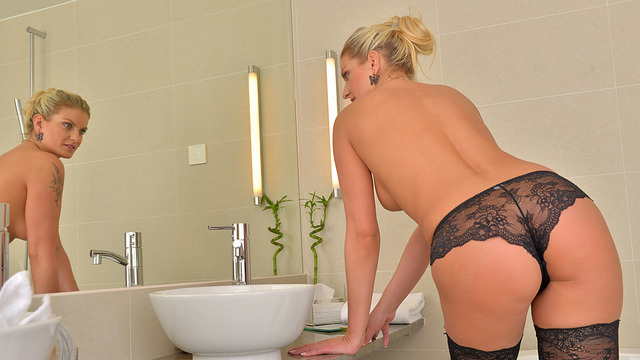 A nice long bath will help 33 year old Samantha Snow to relax for the evening, so that's what this blonde housewife is going to do! She slides her sexy camisole off, relieving herself of her miniskirt as the tub fills. By the time she rolls off her stockings and steps into the water, she's already completely turned on and eager for a good fuck.
»»» End «««
Lucy Page - Shower Orgasm
Posted - January 13, 2015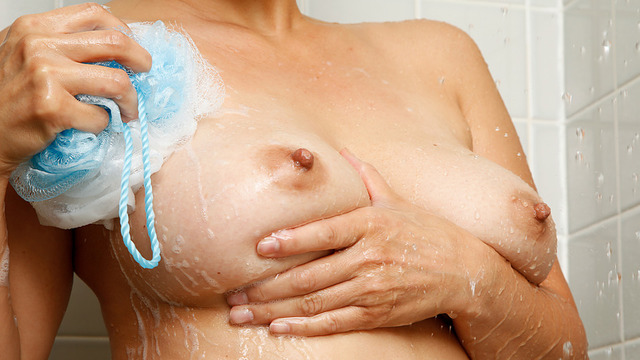 Luscious beauty Lucy Page is cleaning off her voluptuous body in the shower when the urge to take things a step further strikes. She enjoys a slow seduction, soaping up her hanging big breasts and rock hard nipples before shifting her attention lower to her landing strip pussy that's throbbing with excitement at her upcoming orgasm.
»»» End «««
Lucy Page - Ice Cubes
Posted - January 6, 2015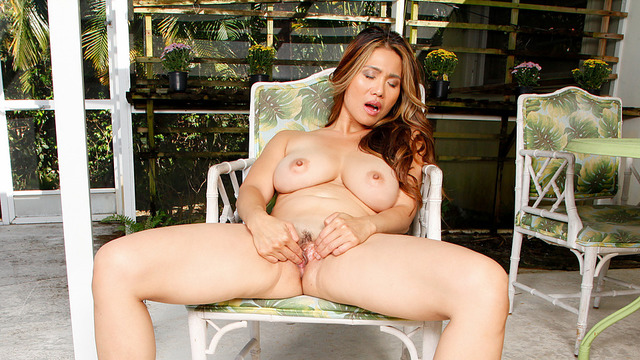 Looking hot in a pair of snug panties and no bra to restrain her huge bouncing tits, stunning cougar Lucy Page knows it's time to masturbate! Even though she's outside she gets naked and then indulges in some teasing with ice cubes pressed to her diamond hard nipples and her hot creamy cunt before finishing herself off with a hard fast pussy fingering.
»»» End «««
Amanda Hills - Easy To Access
Posted - October 30, 2014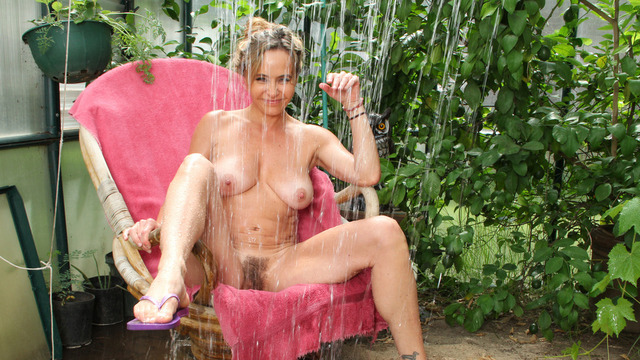 A sheer top shows tantalizing glimpses of 44 year Amanda Hills's jiggling boobs and barely covers her panties. The cock craving housewife wanders to her outdoor shower and gets naked beneath the spray, running her hands all over her slicked up buxom body and hairy pussy as she enjoys the anticipation of a luxurious masturbation session.
»»» End «««
Betsy Long - Bag Of Toys
Posted - February 27, 2014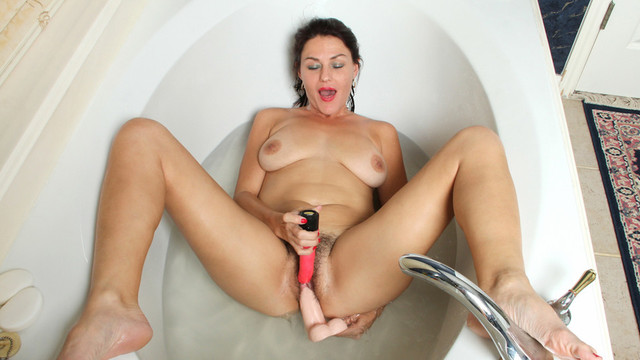 After a night of waitressing, all Betsy Long wants to do is take a bath and satisfy her cock craving hairy pussy. Settling into the warm water, the brunette milf turns to her collection of waterproof sex toys for a good time. Her cock hungry cunt is already dripping as she uses first one dildo and then the other, shoving the toys deep into her needy twat until she is moaning with the pleasure of having her fuck hole filled.
»»» End «««
Holly West - Stays Wet
Posted - January 9, 2014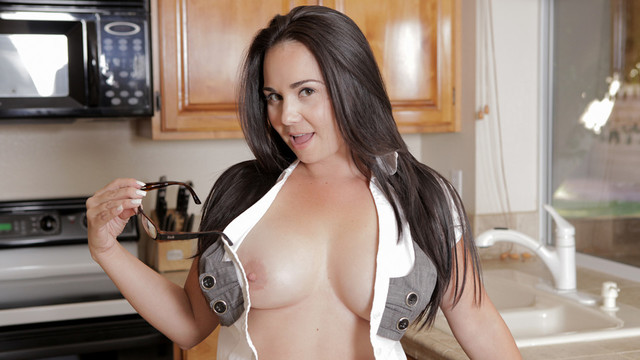 After coming home from a long day of shopping, Holly West can't wait to get naked and play with her big enhanced boobs. Of course the horny cougar can't stop there; she keeps peeling clothes from her voluptuous body until she is naked. Hopping up onto the counter, Holly takes advantage of the sink's wand to spray down her heated bald twat and then finger her wet pussy until her climax roars through her.
»»» End «««
Sandi Lymm - Hard At Work
Posted - November 1, 2013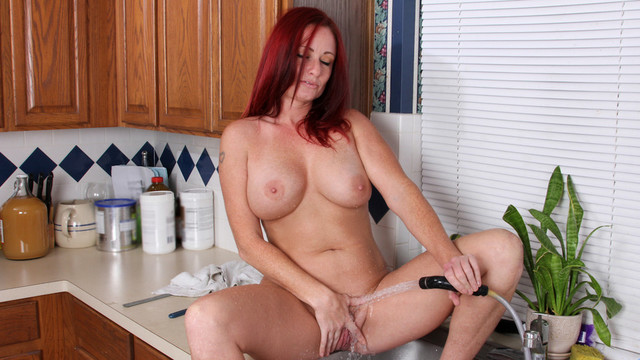 37 year old Sandi Lymm is enjoying her chores around the house, but all of her tools get her horny mind thinking sexier thoughts. The redheaded mom pulls her shirt down to use her tools to pleasure her big enhanced tits, and then keeps shedding clothes until her cock craving body is naked. Settling on the counter, Sandi uses the faucet she just fixed to wet down her creamy slit in anticipation of a long pussy rub.
»»» End «««
Mystique - Wet Bush
Posted - August 21, 2013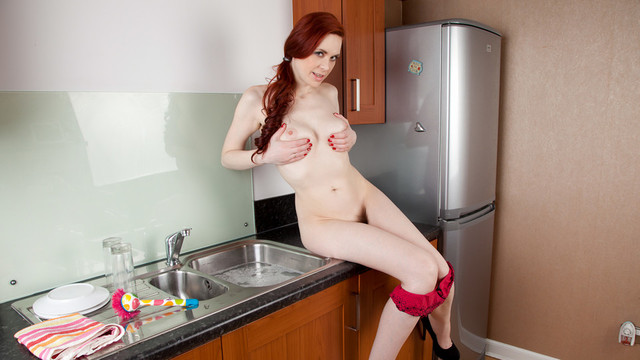 30 year old Mystique is in the kitchen contemplating what to eat when she realizes how horny she is! The fair-skinned milf wastes no time in stripping down to the red bra and panties that look stunning against her pale skin, and then unveiling her medium boobs for a sensual massage. When she has stripped completely, Mystique climbs onto the counter to wet down her red bush and ample ass.
»»» End «««