Rachel - Undressing
Posted - October 31, 2013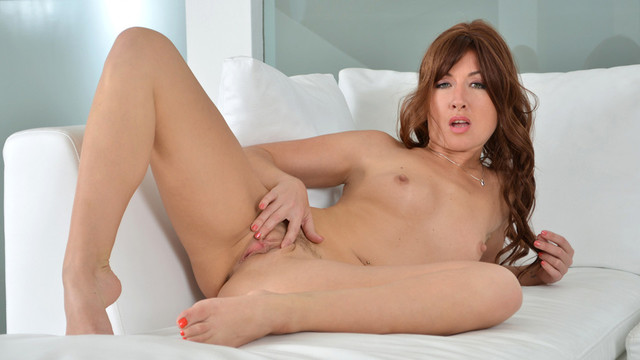 Rachel is a high-powered professional from the UK who is trying out adult modeling to indulge her repressed wild side. This hot mom is a total babe with long red hair and a curvy body that fills out her tight dress to perfection. As the redhead peels off her clothes, including her sheer stockings, she wears a come-hither smile that invites any man who might be interested to come enjoy the bounty of her medium tits and her wet hairy pussy.
»»» End «««
Stacey Robinson - Playful At Her Age
Posted - October 30, 2013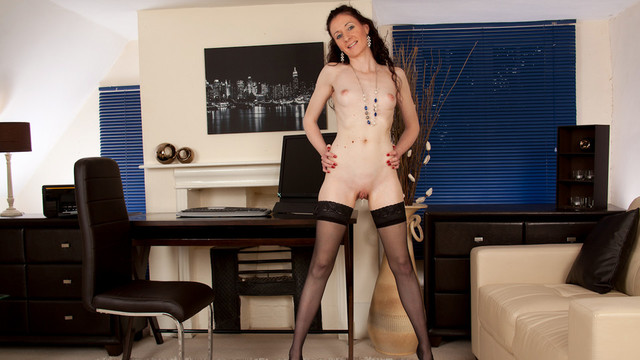 38 year old Stacey Robinson doesn't let her advancing age slow her down. This sexy cougar likes to dress in loose flirty clothes that lift easily to show off her hot tits and ass in their provocative underwear. The only problem with teasing is that the brunette mom is quickly too turned on to wait! Peeling off her clothes, Stacey gives herself a tit massage and then slides her hand down to her bald creamy snatch in anticipation of a long masturbation session.
»»» End «««
Sandi Lymm - Big Tits And Pink Pussy
Posted - October 25, 2013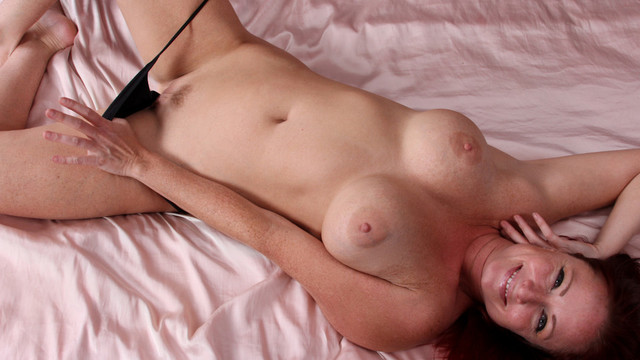 Sandi Lymm is an American redhead who will show you a good time. This horny mom starts off dressed in tight lingerie that props up her big enhanced tits, but as she grows hornier her skimpy clothes come off. Her full boobs bounce as she runs her hands all over her horny body, and soon her hands slip down to her landing strip slit to pleasure her sensitive clit.
»»» End «««
Brianna Green - First Time Jitters
Posted - October 23, 2013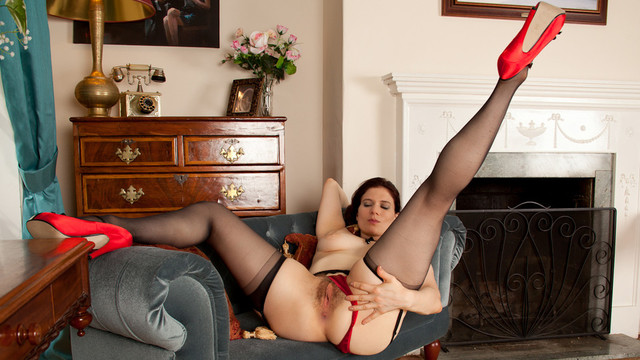 From Toronto but living in UK. Married and hubby doesn't know she is doing this shoot. First ever adult shoot but has been a fan of the site for a long time. Her girlfriend convinced her to "try out" for the site. Very nervous but started to relax after a few minutes and really looking forward to doing the rest of the videos.
»»» End «««
Stacey Robinson - Mature And Horny
Posted - October 21, 2013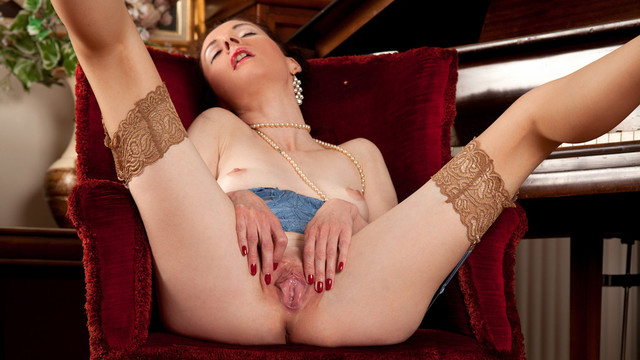 Dressed to the nines in a revealing evening gown, UK babe Stacey Robinson is ready for a night on the prowl for a man. The fair-skinned beauty is already feeling horny as her hands lift her miniskirt to wander her luscious ass encased in sheer lingerie. By the time she realizes that she has pulled her dress down to caress her all naturals and rub her hard nipples, Stacey knows that she has committed to staying in and exploring the pleasures of fingering her horny bald pussy.
»»» End «««
Rachel - Taking Time To Play
Posted - October 20, 2013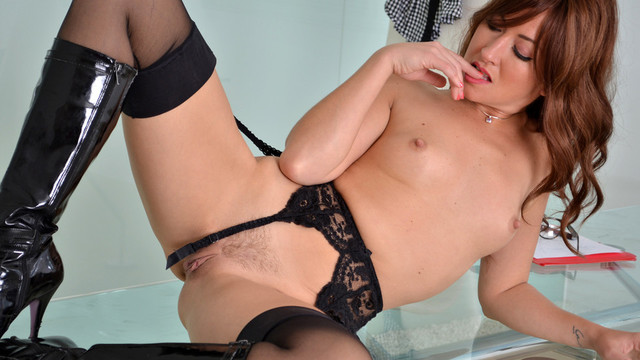 As hospital billing administrator Rachel finishes with a long day at work, this red-haired mom realizes she can't wait until she gets home to pleasure herself. She peels off her dress in full view of the windows, risking her job to expose her stunning body encased in a bra and thong. When even those clothes come off, the horny cougar's fingers seek her puffy nipples to pinch and pull at them and then wanders down to her perfect wet pussy to spread her creamy juices everywhere in preparation for a long masturbation session.
»»» End «««
Amber Michaels - See Through Nightie
Posted - October 19, 2013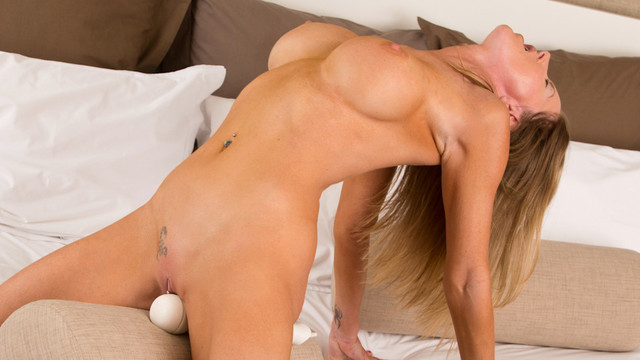 OMG this chick is crazy! Crazy scary!
»»» End «««
Sharlyn - Such A Turn On
Posted - October 17, 2013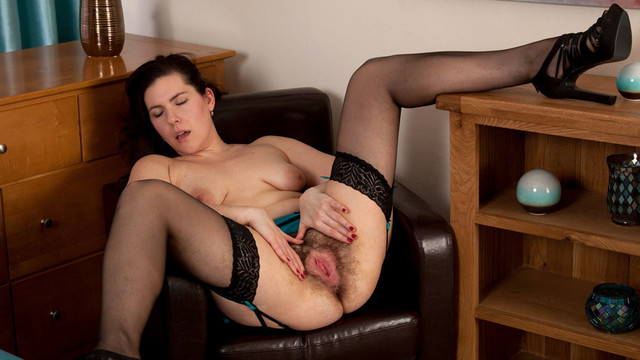 After a long day, 30 year old Sharlyn from the UK can't wait to come home and get naked. She removes her clothes one piece at a time, starting with her miniskirt and then the sweater that hides her small all natural tits. When her panties come off and her hairy pussy is finally exposed, Charisma leans back on the bed and prepares to give herself a big orgasm.
»»» End «««
Tori Dean - Always Time To Play
Posted - October 16, 2013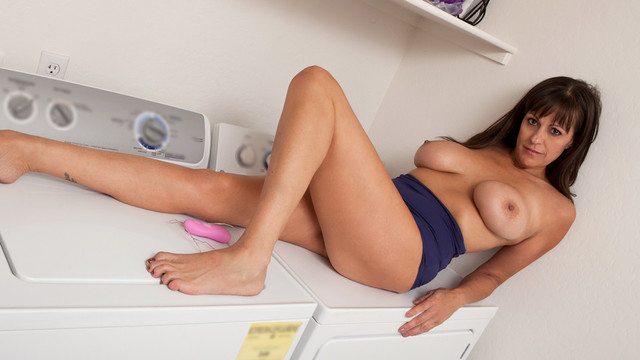 Short shorts hug Tori Dean's luscious ass as the horny mom works on her household chores. Her tight clothes make it easy to massage her butt and enhanced boobs and to pinch her diamond hard nipples through her tank top. They also peel away easily, making it a no-brainer for the horny housewife to hop onto her washer and satisfy her landing strip pussy with a little vibrator that soon brings her to orgasm.
»»» End «««
Nikkitta - Sexy Mature Woman
Posted - October 15, 2013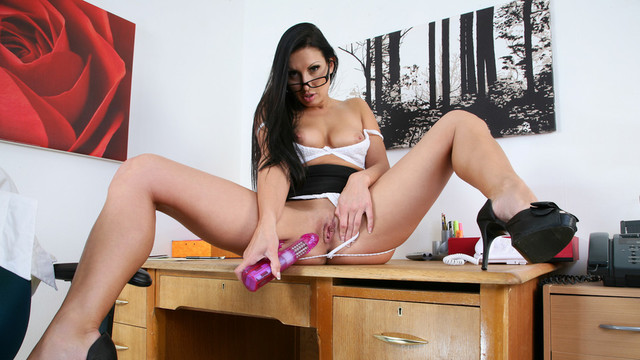 Nikkitta is a 32 year old housewife from the UK who has decided to surprise her husband with a surprise visit at work! She gets herself ready in his office, peeling off her clothes to expose her horny all natural tits and full ass. When her husband takes longer than expected to get back to his office, this insatiable cougar gets started without him, sliding a rabbit vibrator deep into her cock craving fuck hole.
»»» End «««