Kirschley Swoon - Naughty Outdoors
Posted - October 25, 2015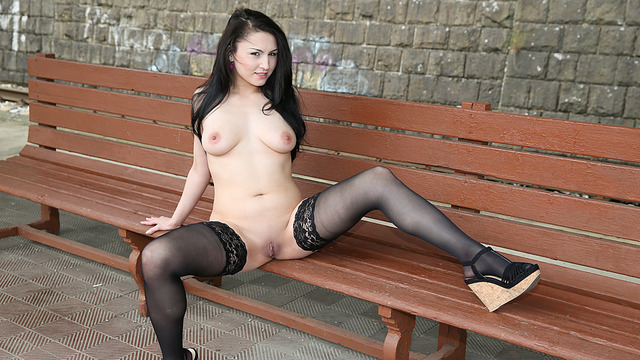 25 year old Kirschley Swoon knows that her all-natural stacked body is hot as hell, and she's never afraid to get out of her clothes to show herself off. It doesn't matter that she's standing outside; when the urge to get herself off strikes. Instead, she starts peeling off her clothes so that the world can admire all of her incredible assets.
»»» End «««
Kirschley Swoon - Beautiful Curves
Posted - October 22, 2015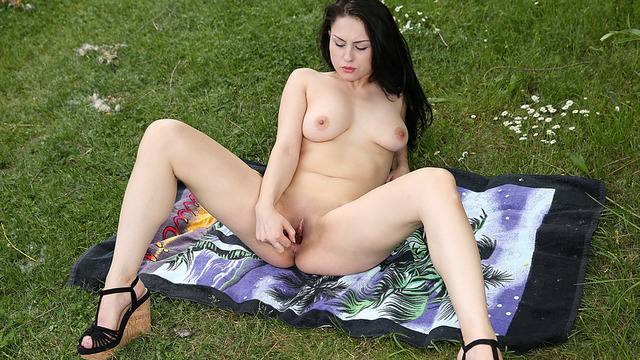 Lusty housewife Kirschley Swoon is a 25 year old babe with a set of tits you'll have to see to believe. Check her out as she stands outdoors peeling off her clothes and then pulls out a hard dildo to assist her magic fingers in satisfying her cum craving bald cunt.
»»» End «««
Sasha Sean - Great Figure
Posted - May 1, 2015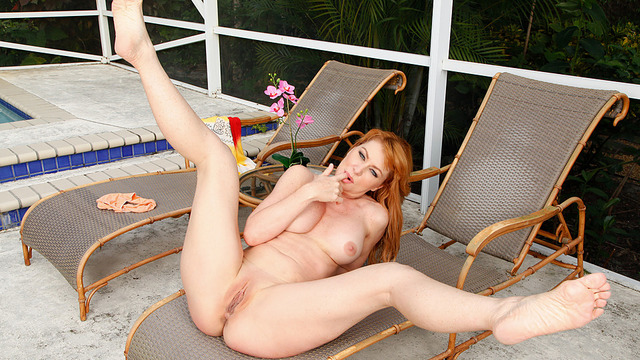 Fair-skinned cougar Sasha Sean is an American beauty whose incredible body is a sight to behold! The lusty redhead can't keep her clothes on, getting naked to put her big boobs and luscious bald pussy on display and then using both hands to stimulate her creamy cunt until she is humming with ecstasy.
»»» End «««
Angela Harley - Vibrator Orgasm
Posted - April 13, 2015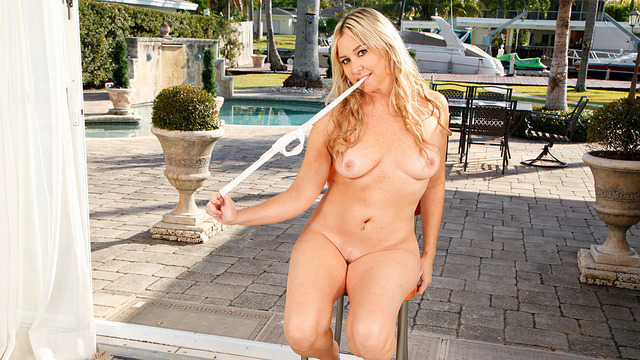 American mom Angela Harley is a 43 year old Latina whose sex drive is through the roof! The horny milf isn't afraid to lift up her dress to show her all natural medium tits or to give us a peek at her panties beneath her miniskirt outside. Soon she has stripped down to nothing at all, opening herself to the big orgasm that only her small portable vibrator can provide.
»»» End «««
Alicia Silver - Outdoor Voyeur
Posted - February 10, 2014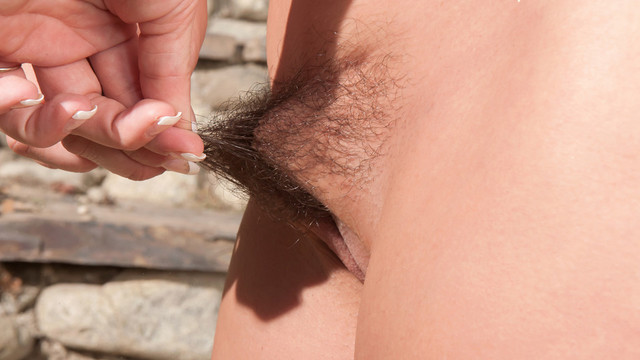 33 year old Alicia Silver enjoys showing off her sexy cougar body any time, any place. Today she gets cozy in the great outdoors, pulling out her all natural boobs without concern for anyone who might see her. Turned on by her exhibitionism, the horny mom gets naked and licks her juices from her panties before leaning back to enjoy the kiss of the sun on her skin.
»»» End «««
Charlotte Davis - Wet And Ready
Posted - July 17, 2013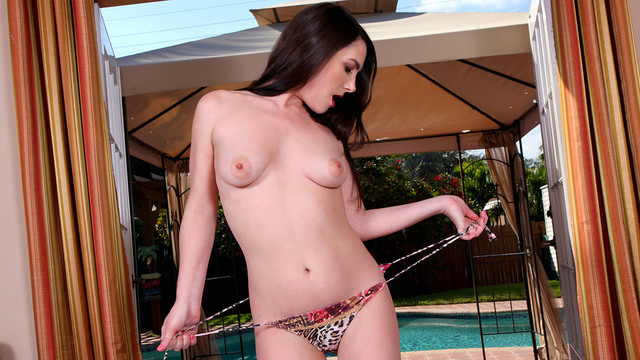 Just in from the pool and dripping wet, 30 year old Charlotte Davis quickly peels her bikini away from her creamy skin. Nude, Charlotte searches for some ice to cool her heated small tits and to pucker her nipples into hard horny peaks. Moving the ice lower, Charlotte pushes the chips deep into her creamy snatch, gasping at the ice cold makeshift dildo as it stimulates her cum craving pussy.
»»» End «««
Jenna Covelli - Outdoor Playtime
Posted - January 12, 2013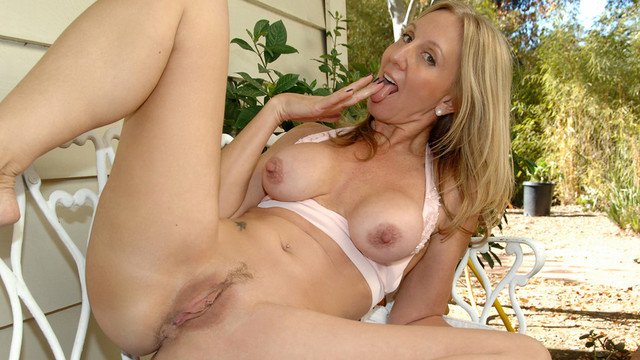 Jenna Covelli is a big-breasted swinger who loves to get down and dirty wherever the urge to orgasm strikes her. It's a warm summer afternoon when this milf decides to get herself off outside so she can enjoy some fun in the sun. Her movements are quick and certain as she rubs her landing strip pussy until she cums with a long moan of pleasure.
»»» End «««
Charlee Chase - Poolside With Her Toy
Posted - January 10, 2013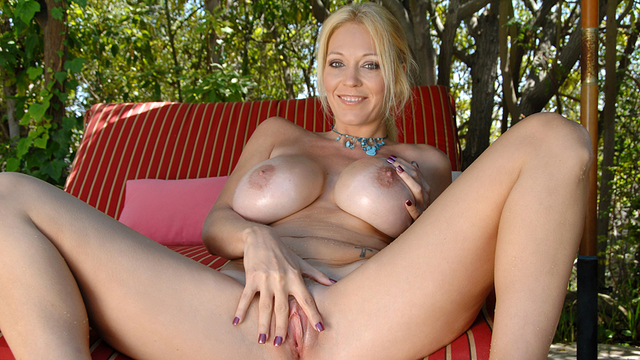 Charlee Chase is a beautiful blonde milf with a set of enhanced breasts that practically beg to be sucked. When this gorgeous girl decides to slip out of her string bikini and lathe her large tits with suntan oil, it is only a matter of time before her landing strip pussy demands to be filled and fucked, too.
»»» End «««
Jenna Covelli's Swinger Fantasy
Posted - December 23, 2012
When 50 year old Jenna Covelli initially discovered swingers clubs, she was more than a little bit nervous. "Probably one of the most frightening things I have ever done was going into a swingers club for the first time. It was also one of the most rewarding as it turns out." This mature milf has never looked back after that first time, participating in all kinds of crazy sexual antics that she would have never dreamed possible during her younger years. "I think my favorites are the threesomes that I've had the chance to take part in," she says as she tugs at her halter top to spill her big boobs out of the slight covering. Her nipples are already hard as diamonds when she reaches up to pinch them at the same time. Sinking further into her fantasy, Jenna slides a hand down her flat tan belly and unzips her tight little shorts so that she can slide them down her long lean legs. "It just makes me feel so special when a couple opens up their bedroom to include me. I'm especially grateful when they both devote themselves to my pleasure and I try to do the same in return." As soon as her shorts hit the ground, Jenna settles herself on a bench and works her fingers over her hanging tits. As she grows hornier, she parts her thighs wide and pushes aside her white lacy thong so that she can press two fingers against her ultra-sensitive clit and then slip them down her juicy slit. Jenna's tight twat is just begging to be filled now, and our hot mama is ready to take things even further. Head on over to Anilos.com® now to check out Jenna's whole raunchy set in high definition pics and video, and to see all of the hottest older women brought to you weekly.
»»» End «««
Jenna Covelli Fucks Younger Man
Posted - December 18, 2012
Jenna Covelli is a 50 year old swinger who loves to fill her horny pussy and cum as often as possible! "I love sex, and I also love variety. I could never settle down in a relationship because no single man or woman could possibly satisfy me. And I'm not ashamed of that!" Perhaps the thing that this mature cougar craves the most is picking up a younger man in one of her clubs and taking him home to show him what an older woman can do for him in bed. Her latest conquest is a young man who has been waiting patiently outside while Jenna slips into something more comfortable. She struts outside dressed in a tiny red bikini and a shirt just long enough to tease at her lithe figure and tight ass. "I'm back, big boy. Are you ready to do me right?" Jenna's man is more than ready, guiding her to straddle him and then pressing up so that she can feel his hard erection through his jeans. "Oh yeah, that's gonna feel real hot inside me," she moans as she gyrates her hips on top of him and then stands up just long enough to slip her shirt and bikini bra down to free her big tits. Jenna's guy uses that time to unbuckle his belt and pull his pants down, but Jenna is too horny to even let him get his clothes off before she pushes her bikini bottoms aside and slides her tight hot pussy down onto his pulsing cock and starts pumping up and down as she gives her guy the ride of his life. If you want to watch this couple get down and dirty with one another then head over to Anilos.com® right now where you'll find all the hottest milfs online brought to you every week.
»»» End «««